Planning Commitee
Register now for Preventive Medicine 2021
and stay tuned for more news and updates!
Meet the Conference Team
Dr. Katrina Rhodes, MD, MS, FACPM – Conference Chair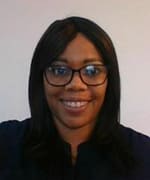 Dr. Katrina Rhodes is a board-certified preventive medicine consultant physician specializing in biotechnology, environmental health, and regulatory compliance. Dr. Rhodes has extensive domestic and international experiences as a medical officer with the U.S. Food & Drug Administration; a regulatory advisor and clinical trial research physician; a population health specialist and adult medicine clinical physician; and a health advisor with the U.S. Peace Corps in Madagascar, Africa.
Dr. Rhodes is an APCM fellow and past Board Member, Prevention Conference Planning Committee Track Co-Chair, Prevention Practice Committee Member, and current representative to the Medical Society Consortium on Climate and Health. Dr. Rhodes is a graduate of Washington University in St. Louis, Northwestern University Feinberg School of Medicine, and University of Maryland, Baltimore Preventive Medicine Residency Training Program.
Richard Bruno – MD, MP, FACPM - Conference Vice-Chair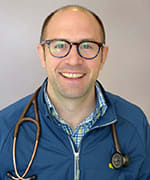 Richard is a double-boarded Family & Preventive medicine physician, serving as the interim medical director at a federally-qualified health center in Baltimore, Maryland, where his clinical focus is on opioid addiction, obesity, HIV, and transcare. He has served on the boards of the American Academy of Family Physicians, Physicians for a National Health Program, National Physicians Alliance (now Doctors for America), Committee to Protect Medicare, American Association of Public Health Physicians, Physicians for Social Responsibility (Chesapeake chapter), MedChi (the Maryland state medical society), Sugar Free Kids Maryland, Maryland Academy of Family Physicians, Baltimore City Medical Society, Hampden Family Center, Hampden Community Council, Wyman Park Community Association, and the Roland Park Civic League. He also serves on the Ethics Panel of the Baltimore City Public Schools district. He was a candidate for Maryland state representative. His wife and two children enjoy hiking, biking, cooking, and playing music together.
Dr. Michele Soltis – Track Vice Chair: Research, Evidence & Policy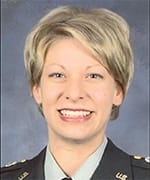 Michele Soltis is currently assigned as the Director of the Public Health Directorate at the Office of The Army Surgeon General in Falls Church, Virginia. As an Army preventive medicine physician, she has had the privilege to serve as Director of the Public Health Residency Program at Madigan Army Medical Center and as a Preventive Medicine Officer with the 10th Mountain Division in support of Operation Enduring Freedom.
Michele earned her Doctor of Medicine degree from the Pennsylvania State University College of Medicine and her Master of Public Health degree from the University of Washington School of Public Health. She is very much looking forward to sharing and celebrating the incredible and inspiring work of the ACPM and its members during Preventive Medicine 2021!
Dr. Wilnise Jasmin – Track Chair: Public Health Practice Innovation & Community Medicine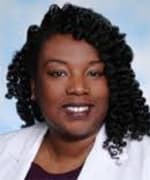 Wilnise Jasmin MD, MBA, MPH works for the Chicago Department of Public Health as the Medical Director of Behavioral Health, an office that leads the city's initiatives in the areas of violence prevention, substance use and prevention, and mental health. She is passionate about finding new ways to successfully eliminate health inequities, and the intersectionality of behavioral health and reproductive health.
For Chicago's COVID-19 response she was the medical lead for Chicago's safe isolation housing for residents who could not safely do so on their own. She specializes in both preventive medicine and family medicine and is an alum of the Johns Hopkins Bloomberg School of Public Health and the Cook County-Loyola Family Medicine Residency Program where she served as a Chief Resident during her final year. A native of Brooklyn, New York, she received her medical degree from the American University of Antigua and MBA with a concentration in Healthcare Administration from Plymouth State University in New Hampshire. She received her bachelor's degree in biology from Columbia University's Barnard College.
Dr. Patrick Keller – Track Chair: Research, Evidence and Practice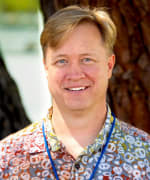 Patrick Keller, MD, MPH, is a father of four boys, preventionist and family doc. He currently resides in Northern California where he works as an Occupational Physician for the Department of Energy at Lawrence Livermore National Lab and as an Aerospace Physician in the Air Force Reserve where he is Commander of the 349th Medical Squadron.
Patrick served 11 years in the U.S. Air Force where he worked in global health, training, disease surveillance, public health emergencies and health promotion. Patrick is an alumnus of The Medical School for International Health, Anmed Family Medicine and the University of North Carolina's preventive medicine residency. Patrick is inspired every year when he gets to see the great work and great people of the ACPM and is most excited by opportunities to use data feedback in improving health status for small, defined populations.
LCDR Amy Rogers, MD, MPH, FACPM – Track Chair – Global Health and Environmental Medicine
LCDR Amy Rogers, MD MPH is a Preventive, Occupational, and Aerospace Medicine physician and Global Health Specialist for the United States Navy. She is currently the Force Health Protection Officer for U.S. Naval Forces Europe / Africa, advising on the U.S. Navy response to COVID-19 in both continents. In her free time, she assists with her family's tree farm in Vermont, which provides education on small family farm management and sustainable practices to local students.
Karen Studer, MD, MPH, FACPM – Track Chair – Clinical Preventive Medicine and Lifestyle Medicine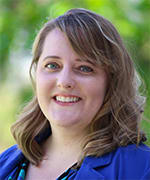 Dr. Karen Studer works clinically at the Loma Linda Veterans Affairs Healthcare System as an attending physician in the community based outpatient clinics (CBOC's) in preventive and lifestyle medicine, focusing on treating tobacco dependence, obesity, type two diabetes, and addressing sleep and nutrition in patients. She also serves as the Program Director of the LLU PM Residency and am the Program Director of the Population Medicine MPH program at the Loma Linda University School of Public Health. Dr. Studer has also earned an MBA in healthcare administration and is board certified in Preventive Medicine and Public Health, Integrative Holistic Medicine and Lifestyle Medicine. Her volunteer work for ACPM started as a medical student and she has been involved in planning the annual ACPM conferences for the past several years.
Dr. Sara Turbow – Track Chair: Future of Preventive Medicine Training and Advocacy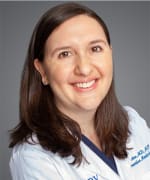 Sara Turbow, MD, MPH, completed her internal medicine and preventive medicine training at Emory University School of Medicine, and now serves as an associate program director for Emory's preventive medicine residency program.
Her research focuses on understanding and mitigating the effects of fragmented hospital readmissions in older adults.
---
2021 Scientific Review Committee
Lorraine Yeung, chair
Sania Amr
Sheryl Bedno
David Blodgett
Sucheta Doshi
Stephen Fischer
Shawn Garcia
Philip Haddad
Elisabeth Hesse
Mary Jennings
Ronda McCarthy
Remington Nevin
Beth Prairie
Charles Schade
Tammy Servies
Margaret Shih
Kenneth Soyemi
Pauline Thomas
Betsy Thompson
Deborah Thompson
Bryant Webber
Peter Wong
2021 Awards Committee Members
Miriam Alexander, chair
Jeremy Aguinaldo, vice-chair
Shana Levey
Lahila Ojeda
Prasad Acharya
2021 Membership Committee Members
Maria Mora Pinzon, chair
Prasad Acharya, vice-chair
Byron Barksdale
James Goodrich
Wilnise Jasmin
Annette Kussmaul
George Lakner 
Marco Ruiz
James Sheehan
Tamara Sheffield
Tina Singh
Christopher Sullivan
Jeff Tzeng
Event Information
May 16 – 19, 2021
Conference sessions now available on-demand to registered attendees.